You won't find this information anywhere else!
So you want to have the best score on the block huh? Well to do that you gotta get to the ultra-hidden second castle! Betcha didn't know that existed. Yeah, I don't leave my room much.
1. Have a few stiff drinks. How about a few more? Yeah. I'm feelin' it! Okay! So, first: Go to the area with the guys who like stab you and stuff. You know what I mean! It's the place with the drums in the backround!! Anyway, on the left there's like, this HOLE right? Right in the WALL. And it's like a HOLE in the WALL and you go through it and on the left or the right or somewhere there's a coffin and it takes you to this woman who's like I'M YOUR MOM and alucard is like NO WAY and she's like YES WAY and he's like FUCK YOU!!!!!! Then you beat her up and she gives you a ring. Got it? How about another drink? Yeah. When you're done with that, go to the area with like the bells and the birds and those guys who fly at you and they're like BWAHHHHH!!! Yeah, you know where I'm talking about, right? Okay! Now there's a door or something and like some spikes and then you meet Mario and she's like WHERE'S LUIGI and you're like SHUT UP and she's like FUCK YOU!!! and she drops this ring. I think now it's time for another drink. Hey! Don't mind if I do! Okay! Now go to the bell tower. It's got the clock and it's like BWONG!!!!!!!! Anyway, Put on the rings. The fucking floor vanishes and you're like WAHH I'M FALLING!! and then you're in this place with like eyes in the backround. So go to the middle of the room and Maria will be like BLAH BLAH BLAH I USE DOVES and then give you these like glasses you can put on. So put them on. So then go up to where Richter is and he'll be like HOLY CROSS!!!!!11 and you gotta attack that orb thing flying over his head. You see what I'm talking about? Look, it's right there. Yeah, now you got it. Shaft will come out and go HAS IT INDEED and Alucard goes WHAT?! and then this castle comes down from the fuckin' clouds.
---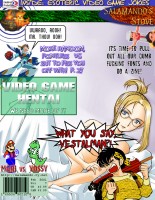 View This Month's Cover
---
---
SECTIONS:
---
---
Main
News
Previews
Reviews
Hardware
Guides
Release Dates
Game Store
Letters
Q&A
About Us
---
---
OTHER SYMPHONY OF THE NIGHT GUIDES:

How to Get Over 100%
HOW TO GET BIG SCORE
You Sure are a Dumbass
---