THE MOMENT YOU'VE ALL BEEN WAITING FOR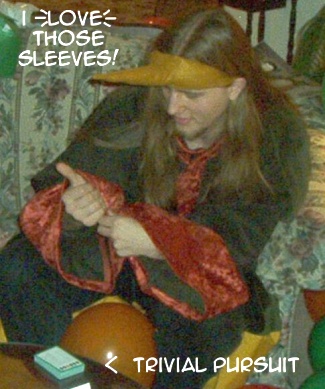 So it's been forever and a day.
We've had 2 updates in the last year. But that's all about to change... for we're planning the
GRAND RETURN OF SALAMANDO'S STOVE
Don't hold us to that. At least there's an update. A grand update. Heralding our glorious return, and a little bit of explanation as to our disappearance.
But glory behold: there is some graduation occuring soon, and that will mark a new era in free time and perhaps inspiration in retarded video game humor.
Meanwhile, check out that wonderful outfit I made myself for a costume party. Pretty swanky, huh?
Also, worth noting is that we've been posting new articles to Subway Pervert Attack, our other great website. Check those out if you're interested too.
BONUS!
To promote our site and herald the return of the yadda yadda, DJ Massa Wrex has skillfully composed an early 90's-style rap commercial. WORD. What was once tired and overdone and cliche is now campy and retro. Download the Salamando Rap (mp3, 670k). Peace and Stoviness to all.