News: Video Game Makers Report Sales in 2000!
Video game makers released a report on Monday, noting to everyone's shock that video games were sold in 2000. One spokseman, speaking on condition of anonymity, said "I thought we weren't going to sell any, but apparently I was wrong." Experts are baffled by the unexpected trend and are stuffing their heads back up their asses for the 2001 predictions.
Previews: Miracle Girls 2: Candy Apocolypse
We just got our hands on a preview copy of Miracle Girls II: Candy Apocalypse. What did we think of it? Read on! Pointless eyecatch blurbs are fun!
Reviews: Vagrant Story
So I just got my hands on Square's latest game, Vagrant Story. Does it measure up? I can't tell you now because that would be just too consise so keep reading.
Castlevania Stragegy Guide: How to Get Over 100%!
So you finally got everywhere you can in Symphony of the Night, did you? You've beaten Richter and won the game. But did you know that there's a SECOND ending of the game most people didn't know about?!
Inside the PS2!
The PS2 is Sony's much awaited successor flagship console system. Boasting a lot of badassness and coolitude, the PS2 looks really appealing to us because good ratings = lots of hits! Our crack team has done some research on the PS2 and found many amazing things about the way its insides work!
---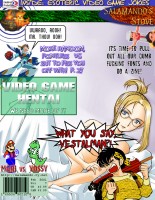 View This Month's Cover
---
---
SECTIONS:
---
---
Main
News
Previews
Reviews
Hardware
Guides
Release Dates
Game Store
Letters
Q&A
About Us
---